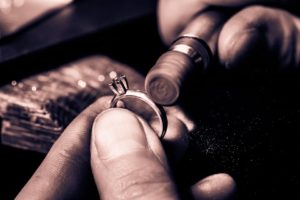 During the lifetime of your jewelry, there may be times when a repair is needed. If you are like many jewelry owners in Minneapolis, MN, finding the right jewelry store in the area to handle your jewelry repairs can be difficult. At Johantgen Jewelers, we have a passion for being the area's trusted jewelry repair professionals, and we are committed to getting your jewelry back into working order in a timely manner.
When we tell our clients that we have been providing high quality jewelry repairs dating all the way back to 1896, sometimes we have to repeat ourselves. Not many companies in any industry can say they have been around for more than a century. As a family owned and operated jewelry store, caring for our customers is our life! There is far more to our jewelry store than being just a place to purchase new jewelry. We take pride in helping our community with their jewelry repair needs as well. Our long-standing reputation came from the ability to provide our clients with high-quality jewelry repairs and being able to repair jewelry back to pre-accident condition.
High Quality Jewelry Repairs Since 1896
Whether you are looking for regular jewelry maintenance or you have a repair that is needed, our committed jewelers have you covered. Our clients regularly come to our jewelry store for the following jewelry repair services:
● Jewelry Polishing – After our jewelry polishing, your piece of jewelry will look brand new again!
● Jewelry Engraving – Looking to pass down a family heirloom or interested in incorporating a personal note in an engagement ring? We offer jewelry engraving services to our clients.
● Full Jewelry Restoration – If your jewelry repair is significant, tap into our full jewelry restoration services so that you can once again wear this precious jewelry in the near future.
In House Jewelry Repairs
All of the jewelry repairs that we complete happen right inside the jewelry store. Thanks to our state-of-the-art in-house jewelry facility that has all of the latest tools, equipment and technology, our trusted jewelry repair specialists will take great care of your jewelry while it is in our store.
Rather than putting your damaged jewelry up in storage, why not get it repaired by an experienced jeweler in Minneapolis, MN. Offering trusted jewelry repairs for over a century, reach out to our team at Johantgen Jewelers today by calling (763) 537-7233 or email us at johantgen@live.com.