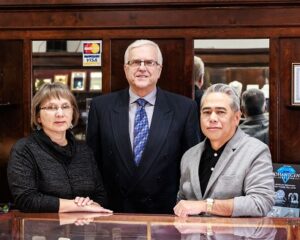 Johantgen Jewelers has been in business in Crystal, Minnesota for more than 100 years. In that time, we have met and worked with many residents in the area to find the perfect piece of jewelry. We understand that you may not be in the market for a piece of jewelry very often, but when you are, we want you to feel confident that you will find exactly what you are looking for when you walk in our showroom. That is why we try to find pieces that are unique, high quality and that represent a wide range of styles and sizes. We listen to our customers and learn about what they are looking for and try to create a selection that matches the clients in our community.
High Quality Jewelry At An Affordable Price
We carry engagement rings, bracelets, earrings, watches, broaches, diamonds, gemstones and we can even design and create custom pieces of jewelry if that is your preference. When you come into our showroom, you will be greeted by one of our longstanding and knowledgeable staff members who will be eager to help you find what you are looking for. Here are a few of the benefits of shopping with a local jewelry store like Johantgen Jewelers:
1. Friendly and personable service: Our goal is to provide you with the best possible customer service when you work with us. We want to get to know you and what we are looking for so that we can show you pieces that will be the right style and price point.
2. Affordable pricing: We understand that it can be difficult to make a major purchase. Jewelry is an investment, and we strive to provide you with high quality pieces at affordable prices. If you share your budget with us, we can help you find the perfect piece!
3. No pressure atmosphere: We also understand that it may take several trips to make a decision about a piece of jewelry, so we will never pressure you to make a purchase. Come in and look as many times as you need to!
4. Repairs completed onsite: We also offer onsite repairs for your jewelry, so if you have a piece that is collecting dust and needs to be cleaned and/or repaired, bring it by and we will get it back into working order.
5. Small local business: We are a small, local business in Crystal, Minnesota and your business and support really makes a difference for us!
Call us at 763-537-7233 or stop by our store at 115 Willow Bend.