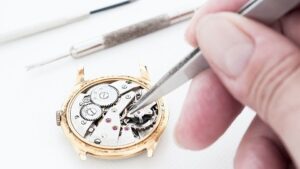 If you have a watch that is no longer keeping time, the battery may not be working or there may be another problem. The team at Johantgen Jewelers provides high quality and reliable on-site watch repair services for those living in the Crystal, Minnesota area. Rather than having to wait for your watch to be sent away to a repair facility, our team can complete the repair on the spot, so that you can get it back quickly. We have experience with all different brands of watches and our watchmakers can answer any questions that you have. In addition, if you have questions after you get your watch back, we will gladly help!
Watch Maintenance And Repair In Crystal MN
We have unique expertise servicing Swiss watches including Rolex, Omega, Movado, Tag Heuer, Ramon Weil, Patek, Citizen and Seiko. In addition to repairs, we can also complete maintenance to your timepiece. Routine maintenance can keep your watch working as it should and will extend its life. The watchmakers at Johantgen Jewelers use only the best possible tools for our work along with specific lubrication, equipment and parts that will help your watch to maintain its optimal condition.
Being able to repair your watch on-site is a very important part of our service plan. We want you to be able to rely on our team for all of your watch service needs. That means, if you need it repaired quickly and correctly, we will make it happen. No shipping, no wait time and no concern that you will never see your watch again. We take great care of your watch while we are working on it and will give you a specific date for completion once we determine exactly what needs to be repaired. We work quickly and our passion for watches and experience means that you are in the best possible hands for watch repair.
Local Jewelry Store That Completes Complex Watch Repair In House
Johantgen Jewelers has been a local, family-owned business since 1896. We sell new jewelry and complete watch and jewelry repairs at our Willow Bend location in Crystal, MN. Our primary goal is to provide the highest quality service, professional interaction and affordable pricing. We are proud to be a member of this community and consider our clients part of our family. If you have a watch that needs service, or are looking for a new piece of jewelry, stop by our store or give us a call at 763-537-7233.