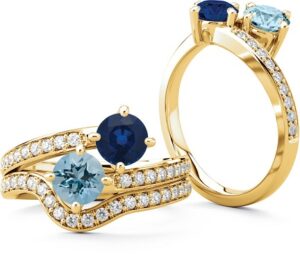 When it comes to purchasing a new piece of jewelry, we understand that you have many choices. You may be able to find something interesting online at one of the thousands of jewelry sellers, or you may decide to look in one of those big box jewelry stores at the area mall. There is no shortage of pieces in stock, and you may even be able to find a "deal", but it is possible that you may be missing out on a uniquely beautiful, one of a kind piece that can really only be found in a local jewelry store. Johantgen Jewelers opened its doors in 1896 and has been committed to serving the residents of Crystal, Minnesota ever since.
High Quality In Stock Jewelry, Minnesota
Our business model is simple. Provide a high-quality selection of jewelry that is priced affordably and give customers the best possible in person experience. We hope that our clients see the value in shopping locally, of course, but we also feel very strongly that we should be able to give our clients other reasons to shop at Johantgen Jewelers. So, we make sure that our selection is up to date with the most current trends, we always have new inventory coming in. Our staff knows the inventory well and can help point you in the right direction if you are unsure of exactly what you want. In addition, you will not ever feel pressured to make a quick decision when you come into our store. We understand that choosing a piece of jewelry for yourself or for a loved one is a big decision. We respect that and want you to feel 100% confident about your choice when you leave.
Extensive Jewelry Selection Plus Repairs And Appraisals
Johantgen Jewelers sells a wide variety of jewelry including diamond rings, earrings and bracelets, as well as watches, antique pieces, brooches and we even can design you a custom piece if you truly want something that is one of a kind. We also can provide you with an appraisal of a piece of jewelry you already own and have a fully functioning repair shop in our facility. We take pride in being able to help you with all aspects of your jewelry purchase, repair and appraisal onsite, so you do not have to wait for items to ship and worry that they may not be exactly as advertised.
Stop by and support your local Crystal, Minnesota jewelry store today at 115 Willow Bend or call us at 763-537-7233 to speak with a member of our experienced team.