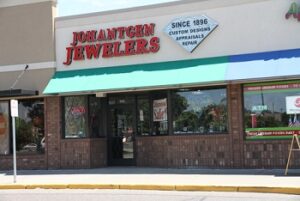 Jewelry is a very sentimental gift. When you purchase it from a family-owned jewelry store like Johantgen Jewelers, not only will you get a beautiful piece of jewelry, but you will become a part of our family. We have been serving the Crystal, Minnesota community for more than one hundred years. We have a huge selection of unique pieces of jewelry including engagement rings, anniversary rings, gemstone pieces, watches, earrings, bracelets and much more. If you are considering making a jewelry purchase in the coming weeks or months, stop by our showroom at 115 Willow Bend to view our selection, talk to our team and get an idea of exactly what you want to purchase.
Local Jewelry Store With Large Selection
When you walk into our showroom, you will be immediately greeted by our friendly and professional staff who will be happy to help you find exactly what you are looking for. We can show you what we have in stock, and we can also tell you about new pieces we expect to receive in the coming weeks. If you want to purchase something that is entirely unique, we can also talk to you about our custom jewelry design options. Our staff will never push you to make a decision about a jewelry purchase too quickly, as we understand that this is a major investment for you. We encourage you to take all the time you need with your decision and even come into our store multiple times as you think of questions or want to see new pieces.
We have built our success on providing high quality pieces of jewelry at affordable prices. In addition, our commitment to customer service is unmatched. We have many repeat customers and client referrals. This means the world to us. We also complete jewelry repair onsite so if you would like your piece cleaned, or the clasp tightened, we are here for you. You cannot get this service online or at a large chain jewelry store. We have spent our careers in the jewelry business and are happy to share this knowledge and expertise with you.
High Quality Diamonds, Watches And Jewelry Since 1886
Our small, family-owned jewelry business is so grateful for the support of the Crystal, MN community. We hope that you will consider us for your next jewelry purchase. Give us a call at 763-537-7233 or email us at [email protected] to speak with a member of our team. We hope to see you soon!