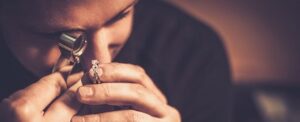 The temperatures are rising, grass is growing, and flowers are starting to bloom. These are all signs of a new season – one that we have all been waiting for. Spring is a time for renewal, a time to spend more time outdoors with the people that you love. If this spring or summer holds a sentimental meaning for you – an anniversary, a birth, a wedding – you may want to celebrate with a special gift. Johantgen Jewelers gets in new pieces each and every week, so now is a great time to stop by our Crystal, MN store and let us help you find an item that can help you celebrate this season.
Large Showroom With Great Jewelry Selection
Johantgen Jewelers has been helping clients find the perfect piece of jewelry for more than a hundred years. We are so proud to be part of this community and to know so many local families. Nothing gives us greater joy than to watch families grow over time and be a small part of your family history. The gift of jewelry does not have to break the bank to be special. We understand that you may be on a tight budget, and we will work tirelessly to help you find a piece that meets your vision AND your budget.
We specialize in high quality diamond jewelry, watches and custom and antique jewelry. Our showroom is filled with many different styles, sizes and price points and our staff is always ready to help you find what you are looking for. We understand that purchasing a piece of jewelry is a big investment and we will be helpful, but never push you to make a decision before you are ready. We encourage you to come in as many times as you want to be sure that you are happy with your decision. We know you have many choices when it comes to a jewelry purchase, and we believe that our approach will stand out from the competition (in person and online). Another thing that we offer is on-site repair services, allowing you to bring a piece of your own jewelry in (or a piece you have purchased from us) and let us clean and repair it so that you can enjoy it.
Local Jeweler In Crystal, Minnesota
So, as you look ahead to the next few months of celebrations, consider a new piece of jewelry for you or for a loved one. Stop by our showroom at 115 Willow Bend or give us a call at 763-537-7233.