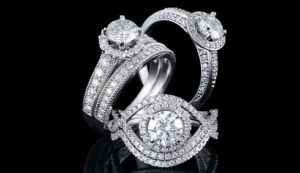 At Johantgen Jewelers, we have been bringing dreams and ideas to life for many years. From customized bracelets to one of a kind wedding bands, there is nothing quite as special as a customized piece of jewelry. Since 1896, our team of professionals here at Johantgen Jewelers has been committed to designing and crafting pieces of jewelry that are inspired by dreams and ideas. If you are looking for a way to uniquely customize your own jewelry piece or even restyle your existing jewelry, we are here to help.
Jewelry Customization Design Process
Have you ever envisioned the perfect jewelry piece but never exactly been able to find it in a store or shop? So many of us have ideas of what we would want or like to have but have no real way of bringing that to life. Johantgen Jewelers is a family owned and operated jeweler that provides high-quality diamonds, jewelry and watches at a great value. Our long-standing reputation as a reliable jeweler with outstanding custom orders has set us apart from all other jewelry companies.
Custom Jewelery Design Specialist
Our team of professionals are known for being custom jewelery design specialists that can customize the most common existing styles while also designing and creating a one of a kind look for any type of jewelry piece you can think of. From wedding bands to pendants, we meticulously cover everything. The process always starts the same. We will ask you about specifics to the design and once we have a great idea, the fun part begins! We always start with carving out a wax mold of your ring, band, dress ring, pendant or earrings. This is so you can see it before it is created. Once you approve of the look, the design will then be cast into gold or platinum and diamonds or gemstones. The end result always brings a big smile to our customers' faces.
Restyling Old Jewelry
If your current jewelry needs a little updating, we can help with that too. Whether you've inherited an out-of-date ring or been keeping old jewelry for sentimental reasons, we've got you covered. We will always work to preserve the actual value of the heirloom while also restyling it and bringing new life to them. With professionals who have the amazing ability to design, transform and restyle, the possibilities are endless.
For more information about our custom jewelry design services here at Johantgen Jewelers, give us a call today. Contact us today at (763) 537-7233 or shoot us an email at johantgen@live.com.