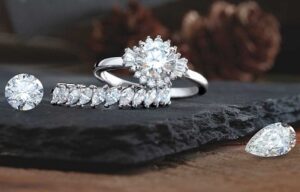 When you are ready to invest in a piece of jewelry for yourself or for a loved one, you want to trust the company you work with. We all know that you can purchase jewelry online, but there can be issues with quality, service and shipping delays, just to name a few issues. If you live near Crystal, Minnesota, you do not have to search any longer for a high quality, professional jewelry store. Johantgen Jewelers is a family-owned jewelry store that first opened its doors back in 1896. Since that day, we have worked hard to keep our customers happy and satisfied with their purchases and find that as a result, we have many repeat customers, many customer referrals and many families that we have gotten to know over the years that have become our friends. We would love to serve you as well.
Large In-Stock Jewelry Selection Minnesota
Johantgen Jewelers has one of the largest selections of high-quality jewelry in the area. We sell diamond jewelry (including engagement rings), watches, anniversary rings, bracelets, diamond bracelets, earrings and necklaces, as well as antique pieces and brooches and pins. No matter what style you are looking for and no matter your price range, we are confident that you will be able to find the perfect piece in our Crystal, Minnesota showroom. We encourage our clients to try on different pieces to see different design options and determine what style is best for you. We get new styles weekly, so our in-stock options are constantly updated. If we happen to not have what you are looking for in our store, we can likely find it for you or design a custom piece that will be one of a kind.
Another perk of working with our staff at Johantgen Jewelers is that we can also complete jewelry repair onsite. So, if you have an old piece that has been gathering dust because you do not know where to get it repaired, look no further. You will not have to worry about long wait times or concerns about shipping your piece. All of our repair work is done at our store.
Local Jeweler Who Also Completes Repairs On-Site
Buying a piece of jewelry is a big decision and a significant investment. Before ordering online, come by our store at 115 Willow Bend and talk with a member of our experienced staff. Our high-quality jewelry and affordable pricing can speak for itself! For more information, give us a call at 763-537-7233.