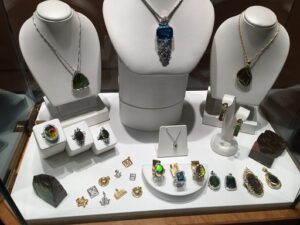 A new piece of jewelry is a significant investment no matter how much it costs. It is important, when you are making an investment like that, to be sure that you are getting a high-quality piece at a price that you can afford. Johantgen Jewelers is a local, family-owned jewelry store in Crystal, Minnesota that specializes in offering a wide selection of high quality pieces at a great value. When you walk into our showroom, you will immediately notice the large selection of diamond jewelry, rings, earrings, bracelets and necklaces as well as watches, and other modern and antique pieces.
Large In-Store Jewelry Selection In Crystal, MN
Our staff understands that purchasing a piece of jewelry is a big investment and you want it to be just right, whether you will be wearing it or giving it to a loved one. So, our approach is simple. We will offer the best possible customer service in the business, but we will never push. We realize that you may need to think about your decision and that timeframe may be days, weeks or even longer. We enjoy getting to know our clients and assisting in any way we can with this important decision. We can show you various options in your price range, answer any questions that you may have and then leave you to make your decision.
The bottom line is that we want you to feel good about your purchase. We want your decision and your purchase to bring you joy for many years to come. We also want the process to be as enjoyable as possible and one that you can recommend to others. So, we work hard to make this happen. Our jewelry is unique, affordably priced and we will always stand behind our pieces. We also have on-site jewelry repair that can be used for cleaning, sizing and other normal issues that come up when you have a piece of jewelry for many years.
Affordable Jewelry Options To Fit Your Budget
One of the things we hear often from our customers is that we offer a wide range of jewelry at different price points. So, you do not have to worry that you will not be able to find something that fits your needs and your budget. For more information, stop by our store at 115 Willow Bend or give us a call at 763-537-7233.