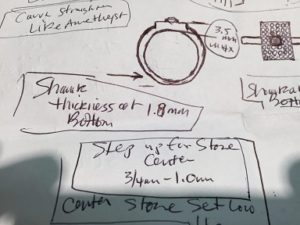 Have you been looking for the perfect piece of jewelry, but have been struggling to find it? No matter how long you search, you may never find the piece of jewelry that you've always wanted. The good news, however, is that our team at Johantgen Jewelers has a solution for you. We are proud to offer jewelry customization services so that the search for the perfect piece can stop right at the doors of our jewelry stop. Bring your dreams and ideas to our jewelry store and we'll handle the rest.
Turning Jewelry Dreams Into A Reality
Nothing puts a bigger smile on the face of our staff than being able to create the perfect jewelry item for our customers. We are able to turn your jewelry dreams into a reality without negatively impacting the quality. Jewelry is known for expressing your own personality, so whatever ideas you may have, we encourage you to bring them to the table. The end goal for our staff is to create a piece that you will treasure for the rest of your life. By allowing our clients to take part in the jewelry customization process through sharing their ideas, the overall experience you share with our staff is one that you'll remember for quite some time.
Out With The Old, In With The New
Do you have some out-of-date jewelry that may have been passed down within your family? It may currently not be in style, but rather than getting rid of the piece, you should consider restyling your old jewelry. As the saying goes, out with the old and in with the new, our jewelers can preserve and restyle your jewelry to your own unique preferences. We can restyle your old, unused jewelry into a ring, pendant, set of earrings, etc.
Jewelry Customization Consultation Minneapolis
Curious to hear more about our jewelry customization options? Are you clueless about what the costs around this process may be? If you have any questions or want to learn more about our custom jewelry design options, consider setting up a jewelry customization consultation with one of our experienced jewelers in the near future. There is no obligation, so if you find that you aren't ready to commit to this project, our team will not pressure you into any decision you're not prepared to make.
At Johantgen Jewelers, we specialize in jewelry customization services for clients around Minneapolis, MN. To schedule a jewelry customization consultation, give our experienced team a call today at (763) 537-7233 or shoot us an email at johantgen@live.com.