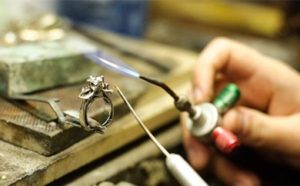 No matter how great you are at taking care of your jewelry, there will likely be times where your adored jewelry needs to be repaired. Whether it is regular jewelry maintenance or an extensive repair, it's critical that you let experienced jewelry repair professionals handle the repair. This is definitely not something you should handle on your own, nor should you risk letting someone that lacks experience handle your jewelry repairs. If you are in the Minneapolis, MN area, there is no better team than Johantgen Jewelers for all of your jewelry repair needs.
Experienced Jewelry Repairs
When it comes to working with expensive jewelry like diamonds, high-end watches, etc., you want a team that has plenty of experience handling jewelry repairs. Experience is something that sets our staff apart from the other jewelers in the area. Our family-owned and operated jewelry store has been around since 1896. With more than 100 years of experience, you can rest assured that we have seen it all when it comes to jewelry damage. By choosing to work with our experienced jewelry repair staff, you'll receive the best quality repairs along with the greatest customer service around.
Jewelry Repair Services
Do you have an engagement ring that has been damaged? Has the diamond from an inherited ring come apart from the frame of your ring? Does your high-end watch need to be repaired? Rather than putting your damaged jewelry up in the jewelry case to collect dust, bring your damaged jewelry to our jewelry store and let us get your jewelry repaired back to pristine condition. We can handle all of your jewelry or watch repairs and also specialize in regular cleaning and maintenance on your jewelry. Taking these steps to properly maintain your jewelry's beauty will help ensure that it keeps its value for decades to come.
Our jewelry repair team understands how important your jewelry is to you. The precious jewelry not only brings beauty into your life, but it shares a story too. If your jewelry has recently gotten damaged, don't store it and risk the damage getting worse down the road. Instead, let our dedicated and experienced team at Johantgen Jewelers handle your jewelry repair needs in the near future. As your trusted jewelry repair professionals in Minneapolis, MN, we're eager to get your jewelry back to full strength affordably. To schedule a jewelry repair, give us a call today at (763) 537-7233 or email johantgen@live.com.