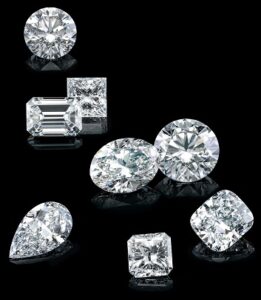 Have you found the person you plan to spend the rest of your life with? Are you ready to make that lifelong commitment and are looking for an engagement ring to symbolize that commitment and show your love for that special person? Johantgen Jewelers is a local family owned jewelry store in Crystal, MN, that has a large selection of engagement rings and can even create a custom piece perfectly suited for your soon-to-be fiancé. You can sit back and enjoy the process as you talk to our team of professionals who will help you choose just the right piece to mark the beginning of your new life together.
Different Styles Of Engagement Rings
Your significant other will remember the minute that you pop the question for the rest of their life. It will become a story that is told over and over and relayed to your kids someday. Our jewelers love being part of your story and your special day, even if it's just a minor role. When you walk into our store, you will immediately feel welcomed and heard. We truly want you to have a good experience choosing that engagement ring, so we really listen to you when you describe what you are looking for as well as your budget.
The pieces that we have in our store are hand selected and carefully chosen for their beauty, quality and visual appeal. They are unique and we offer many different styles to appeal to a wide range of customers. We have classic pieces, pieces with a more modern style, antique pieces and we can even design a custom piece if you happen not to find the perfect piece in our store. This choice is personal, and a very special time and we will help you in any way that we can. You will never be pushed into making a decision, you can come into our store as many times as you need to until you are confident that you are ready to make your final choice.
Quality Engangement Ring Store In Crystal
Your fiancé will wear this piece of jewelry every day of the rest of their life. This is a great opportunity to choose something that comes from your heart and that you think will be a good match for your loved one's style. We can take any stress out of this process and help you feel confident in your choice. For more information about our engagement rings, stop by our convenient location at 115 Willow Bend or call us at 763-537-7233.